Hello, and welcome to Greg's Galactic Place In Cyberspace! Just in case you're not a fan, let me bring you up to speed. The Galactic Cowboys are a great rock & roll band! Their eclectic musical style is difficult to pin down, however. "Meaningful heavy metal" and "intelligent headbangers" come to mind, but those are just labels, and labels are often misleading, especially since the Cowboys don't consider themselves to be a heavy metal band. (Most of that mis-association comes from being on the Metal Blade record label.) No, the Cowboys are more about contrasts and variety. Pick a random point on one of their six full-length studio albums (listed on my Discography page), and you could encounter some heavy guitar crunches or a sweet electric guitar solo poured into your ears by lead guitarist Wally Farkas (Dane Sonnier before him); a hard-edged rock number captivatingly rendered by lead singer Ben Huggins; a lighter, McCartney-like rock ballad sung by Ben or bassist Monty Colvin or Wally; an ex-cellent drum solo by ex-drummer Alan Doss (King's X drummer Jerry Gaskill helped fill in on the last album, Let It Go), or a groovy bass line laid down by songwriter extraordinaire Monty. Track no. 4 ("Life and Times") on Let It Go is sung by Wally. He sounds so much like John Lennon, that you would swear you are listening to the Beatles! The band's vocal harmonies are also very Beatlesque, as well as their melodies. Great songwriting, beautiful, catchy melodies, and rich, multi-layered harmonies anchored by a driving rock beat through distorted guitars are the trademark of the Galactic Cowboys. Ben: "The secret to what we do is stay melodic and heavy. That's it. It's simple. I mean no matter how far we have strayed away from our material or tried new things, we have always come back to those two elements with the Galactic Cowboys."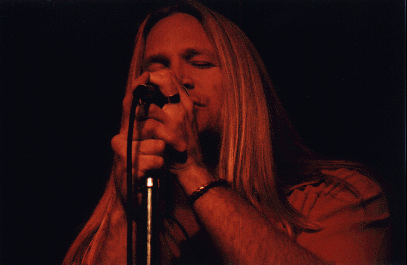 Ben Huggins performed most of the lead vocals for the band. Here he is at the mike at Toads Place in 1998. Ben's voice is powerful and unique; comparing him to anyone would be an exercise in futility. Ben also plays acoustic guitar and the blues harp, and maintains the band's official web site, which you can find on my related links page. He also named this web site. Thanks, Ben!
Monty Colvin laying down the bass licks at the Toady in '98. Monty also sings lead vocal on many of the Cowboys' songs. While all of the band members were involved in the songwriting process, Monty wrote most of the group's material, and was also responsible for all of the artwork in the CD liner notes.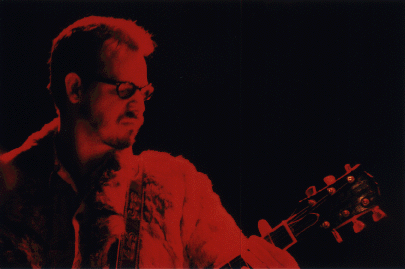 Wally Farkas on lead guitar at the same performance. Wally sings lead vocal on three songs on the band's last album, "Let It Go." His voice sounds a lot like John Lennon's.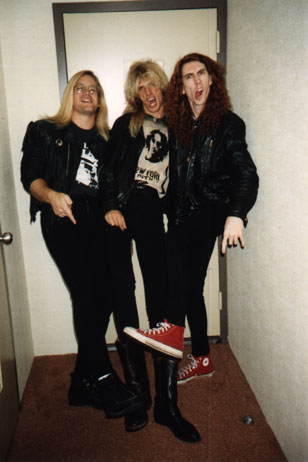 Ben, Alan, and Monty goofin' in their hotel room on the first tour.
Toad's Place photography by Brandee McBride. Other photographs supplied by Ben Huggins and the band. Front and back cover of "Let It Go" courtesy of Dan Temmesfeld.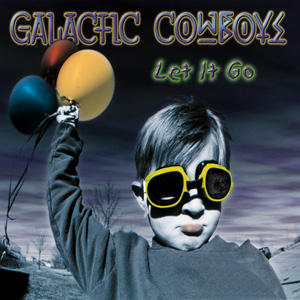 "Let It Go" hit store shelves on June 20, 2000. Hmmm. Sounds a little too much like "Let It Be". Is this title a harbinger? Click on News and Gossip to find out. Click on the front cover to see the back!

Galactic Cowboys:
Ben Huggins (vocals, acoustic guitar, blues harp, computer mouse)
Monty Colvin (vocals, bass)
Wally Farkas (guitar, vocals, keyboards)

Former Members:

Alan Doss (drums, vocals, keyboards)
Dane Sonnier (guitar)
The rest of the band.

Guest appearances:

Jerry Gaskill (drums) appears courtesy of King's X on the latest studio album, "Let It Go".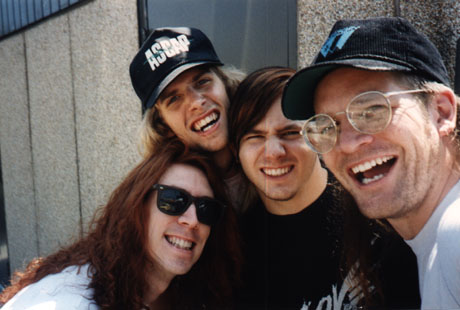 Two early shots of the band on their first U.S. tour. The Cowboys were more than happy to open for King's X at the end of that band's "Gretchen Goes To Nebraska" tour, after Masters Of Reality's lead singer decided not to finish the tour. Above, from left to right: Monty Colvin, Alan Doss, Dane Sonnier, and Ben Huggins. Below, clockwise: Monty at nine (or is that eight?) o'clock, Alan at one o'clock, Ben at three o'clock, and Dane at six o'clock.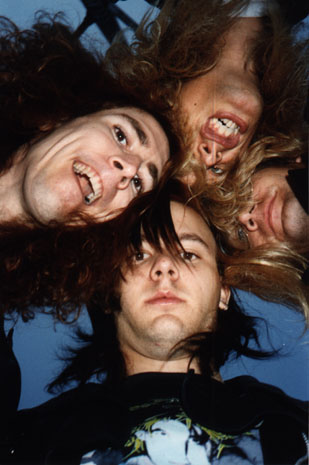 Monty, Dane, and Alan chillin' in their hotel room on the first tour.
This web site looks best using Microsoft Internet Explorer or Netscape Communicator. You can download the latest versions for Windows 3.1/95/98/ME/NT/2000/XP, Mac OS 7/8/9/X, and the many incarnations of UNIX, by clicking on the links above. This site does not look right in AOL's browser. If you want to view it the way it was intended, use one of the browsers listed above, set to a medium font size in Explorer, and a 10 pt. fixed/12 pt. variable font size in Communicator. You don't have to download the whole Communicator suite; Navigator is the only component you need.
This web site was last updated on Thursday, August 22, 2002.